Deb O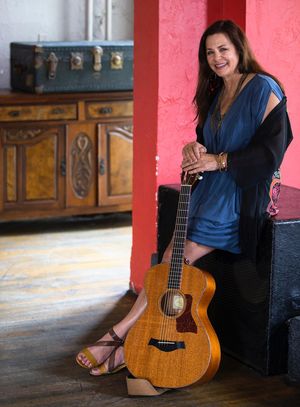 Deb Ohlinger is a singer/ songwriter from Covington, Ky. After graduating with a BFA in 1986, she pursued a career in painting until her life-long fascination with music took precedence. With the encouragement of fellow musicians, she was fronting her own bands in a few years and performing on a regular basis. Gradually, she became intrigued with the songwriting process for its similarities to the visual arts. The language of contrast, line, form, weight, movement – and countless other familiar terms she used as a painter – provided her with all the tools for writing tunes with unique lyrics and varied styles.
Following these efforts, she met up with my husband, Rick Hayes, and formed a musical partnership. Together they joined their talents to create this work of art and form Rattletrap.
Favorite Blue is an eclectic collection of songs that pulls influences from various time periods and styles in American music. Truly Americana, it's a cross- country trip in a time machine. Enjoy the ride! 
Lyn Hayes

 
---

Many Thanks to Rick and Lyn Hayes of Hayes Productions. Their stellar efforts made this project not only possible but a glorious journey.  
With Rick Hayes' musical prowess, these songs came to life! In addition to his adept instrumentation, I was able to procure the contribution of stellar musicians,  such as Irl Hees on upright bass and Tim Crouch on fiddle, both of whom routinely perform with the likes of Alison Krauss, Alan Jackson. 
Furthermore, singers Katie Davidson and Maria Carrelli lent their diverse and unique backup vocal styles to songs, while Bob Kennedy graced us with his emotional touch on the keys throughout most of the album. Additionally, Katie Davidson provided me with steadfast support and advice on vocal approach and style. 
A Big Hug and much love to Colleen Kelley for her delicious personality and great time during our photo shoot! 
I am entirely grateful to every person that contributed to this project. Again…thank you! 
I hope you enjoy this album. Our goal was to make the unique familiar and the familiar unique. 

Deb O
debrajart@gmail.com