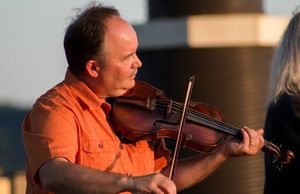 Tim Crouch
 Tim is a fiddler, mandolin and guitar player from Strawberry Arkansas, but spends most of his time in Nashville. HIs musical affiliations is lengthy and includes, but is not limited to ,  George Jones, Billy Bob Thornton, Dolly Parton, Glen Campbell, Andy Williams, Marty Stuart, Oak Ridge boys, Charley Pride, Dierks Bentley, Jerry Reed, Tommy Shaw of "STYX", Mare Winningham, Mike Snider, Grand Ole Opry Staff Band and Jonathon Edwards. He has performed on television shows such as The David Letterman show, The Conan O'Brien show, CBS Early Morning show, Grand Ole Opry Live, Austin City Limits, Hee Haw, Country Music Awards Show, History of the Grand Ole Opry, Christian Country Music Awards Show, Classic Country, Inspirational Music Awards Show, and others. We are delighted to have Tim's stellar contribution on Favorite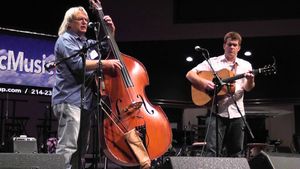 Irl Hees
 Irl began working with Oklahoma banjo player Kenny Cantrell in 1978, and took several more regional band gigs over the next 10 years. Irl was the original bassist in the Midwest group "Radio Flyer", and in the late 80's, and began a group called "Down The Road".  After about 6 years,  he joined with several others to produce and record "The Missouri Session", a CD devoted to showcasing several Midwest bluegrass bands and musicians in a studio setting. 
In 1995,  he joined Rhonda Vincent's country band.  In 1996, he was part of the original RAJ'E band, which later became Rhonda Vincent and the Rage.  He then joined Chris Jones and the Night Drivers, and eventually did two stints with Chris, appearing on Chris's "Just A Town" album.  In 2002, Irl joined the Lonesome River Band, and recorded "Window Of Time" with LRB. 
The Grand Ole Opry, The Jerry Lewis Telethon, Music City Roots, Larry's Country Diner, are just a few of the venues Irl has appeared on over the years.  He has performed with actress Mare Winningham and her 'Jewgrass Boys' several times. 
Irl now enjoys teaming with bandleader Clay Hess in the Clay Hess Band, and does occasional session work for other bluegrass performers.  He still has the old wash tub as a reminder of where he came from, but prefers the acoustic upright bass.
Of course, we are delighted to have Irl contribute to Favorite Blue!