Rick Hayes
Rick attributes his musical beginnings to his father -- starting in bluegrass he journeyed into the world of rock, and then found his way back home to bluegrass. His transition from rock guitar to bluegrass mandolin created a style very unique and all his own. If you listen close you can hear anything from Bill Monroe to Randy Rhoads. Rick started playing around the Cincinnati, Ohio area at a young age and was  always in the center of the best musicians. When he fell in love with the bluegrass scene it was not enough to just play. He combined his talents and knowledge of recording and graphic arts and started his own record label. He also took a turn as a promoter, opening a theater venue with his brother in Covington, Kentucky. It was at this time that he joined Blue & Lonesome. Rick would later leave the band and go on to play and record with the Gibson Brothers, performing at some of the finest venues across the country and even the mother church itself... The Grand Ole Opry...After which he went on to found the bluegrass band, Nightflyer. Recently, he  added to his business resume, with his own line of guitars and mandolins, Rick Hayes Instruments, which are endorsed by some of the best musicians in the industry.
Rick is an artist in all aspects of the word. Not only as a great musician, but a fine luthier, recording engineer and graphic artist. He is a true "road scholar" and brings more to the table then anyone could ask. His recent collaboration with Deb O, to create Favorite Blue, has combined his talents as an instrumentalist, songwriter, recording engineer and producer takes him in yet another exciting direction in music.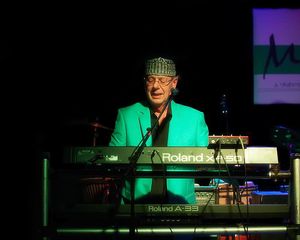 Bob Kennedy
As a classically trained and experienced Rock, Pop pianist, Bob's eclectic knowledge of music has proven to be a priceless contribution to Rattletrap. Playing music since '72 he traveled with bands such as The Platters and Fantasy. Currently, in additions to Rattletrap, he plays with the long-standing Cincinnati band, Balderdash and the Santana tribute band, Madrigal.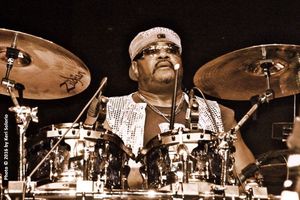 Chip "Cuz" Wilson
We are very proud to have Chip "Cuz" Wilson playing with Rattletrap! As a much coveted drummer, he has performed with the best for years, including Freekbass and Bootsy Collins!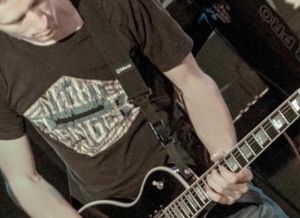 Elijah Sears
Elijah attributes his love for music to his grandfather and his father.  When he was 12, he received his first guitar as a Christmas gift from his parents and his grandfather started to teach him some of the basics.  From there, Elijah started to play the music he truly loved, classic rock.  Besides playing at a few local churches, Elijah didn't start to play live until he was 19 when he joined a local classic rock cover band. From there he has been in a few bands in the Cincinnati area. He is influenced by Stevie Ray Vaughan, Eddie Van Halen, and Nuno Bettencourt, to name a few.  Now at 22, Elijah continues to play classic rock and we are thrilled to have him as a member of Rattletrap,